"SEE THE WHITE LILIES OF THE COUNTRYSIDE" period.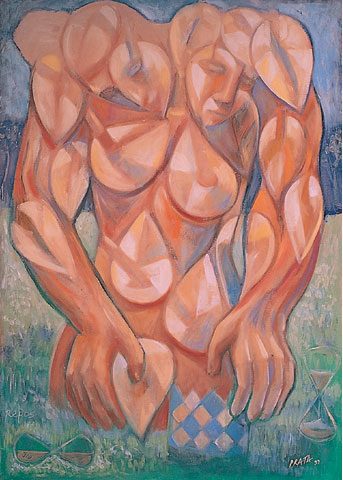 The use of beeswax in painting mixtures, or Encaustic painting, is one of the most ancient painting techniques to be used by the Greeks, Egyptians and Romans. Funerary portraits that employed this method were discovered in the Egyptian tombs of the oasis of Fayum. Other encaustic works were created by Greek and Roman artists from the 1st to the 4th century b.c. The discovery of this technique is credited to Polignoto, a Greek Jonik painter, and two other Greeks, Aristides and Praxiteles.
There are two ways of painting with beeswax; the hot way (fusion) and the cold way (saponification of the wax). In using these techniques, the painting adopts a waterproof quality because of the beeswax contained within the paint. This gives the work a kind of impermeability incomparable to other techniques. It is even easier to use certain pigments that cannot be incorporated when used with oil and fresco methods. There are very few artists who adopt this technique due to a favoritism towards the oil technique and more recent mediums. One might suggest that Encaustic painting is superior to oil painting, as it is surely more water resistant than oil. You can even paint textures safely without gloss. Mr. Prata is presently one of the few Brazilian artists to use and teach this technique.
"Couple"
Encaustic on canvas
80 X 1,20 cm, 1993.
"Heart"
Encaustic on canvas
50 X 70 cm, 1993.
Small part of the painting techniques DVD.